CQB-F fluorine plastic magnetic drive pumps
Product Overview
CQB-F fluorine plasticsMagnetic drive pumpUsing magnetic coupling drive, there is no dynamic seal point, so the complete elimination of the general shaft drive typeCentrifugal pumpSeal Office run, run, drip, drain phenomenon. The over-current parts are made of fluorine plastic industrial ceramics, has excellent corrosion resistance and sealing, not aging, toxin-free advantages. Transmission power 3kW or less DN50mm the following for all fluorine plastic magnetic drive pumps.

Features
Magnetic PumpCompact structure, beautiful appearance, small size, low noise, reliable, easy to use vertical pump with a metal shell fixed, so the weight of the pump sufficient to support the pipeline, and to facilitate the use and maintenance. Flow :1.8-100m3 / h Head :8-32m Power :0.12-22KW Suitable temperature: -20 ~ 100 ℃

Usage
Corrosive liquid without solid particles, acids, alkalis, alcohol, bleach, photography solution, nitric acid, hydrochloric acid, hydrofluoric acid, acetic acid, sodium hydroxide, acetone, 4 ethylene oxide, water, salt and so on.
installation size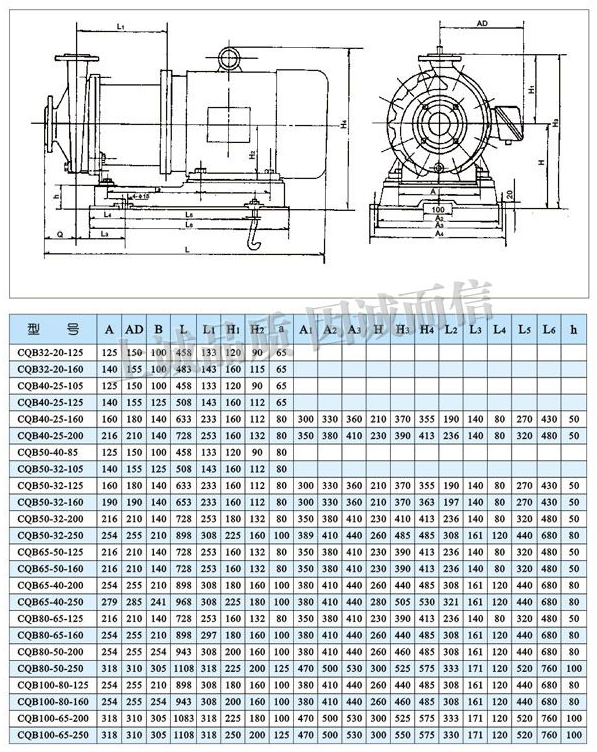 Performance Parameters
Model
Flow
(M3/ H)
Head
(M)
Amount of cavitation for
(M)
Speed
(R / min)
Diameter (mm)
Temperature
(℃)
Voltage
(V)
Import
Export
CQB16-12-18F
1.8
8
6.0
2900
Φ16
Φ12
<80
220/380
CQB20-14-100F
3
12
6.0
2900
Φ20
Φ14
<80
220/380
CQB32-25-125F
3.2
20
5.0
2900
Φ32
Φ20
<80
380
CQB40-32-115F
6.3
15
6.0
2900
Φ40
Φ32
<80
380
CQB40-32-145F
6.3
25
5.0
2900
Φ40
Φ32
<80
380
CQB50-40-125F
12.5
20
3.5
2900
Φ50
Φ40
<80
380
CQB50-40-160F
12.5
32
3.5
2900
Φ50
Φ40
<80
380
CQB65-50-125F
25
20
4.0
2900
Φ65
Φ50
<80
380
CQB65-50-160F
25
32
4.0
2900
Φ65
Φ50
<100
380
CQB80-65-125F
50
20
4.0
2900
Φ80
Φ65
<100
380
CQB80-65-160F
50
32
4.0
2900
Φ80
Φ65
<100
380