YW liquid without plug-efficient sewage pump
Product characteristics :
1. Um Road hydraulic components used anti-plug design, greatly enhanced through the dirt, pump effectively through five times the diameter fiber material and pump bore diameter of about 50% of the solid particles.
2. Design, matching motors, high efficiency, energy-saving effect is remarkable.
3. Series sealed a double mechanical seal, made of tungsten carbide hard wear with durability and wear characteristics. Security can pump 8,000 hours of continuous operation.
4. Pump compact structure, small size, mobile convenience features such as simple installation. 5. Users may need to be equipped with Level Control counters, according to the required Level changes Start and stop the pump control, and no person in custody is extremely convenient to use.
6. Vertical structures for the pump to work, and therefore it was very easy Pump Baptist in liquid starter. find time to exhaust problem does not exist, with no leakage characteristics of liquid depth of 0.5-7 meters.
7. Spindle structure of a modern, reliable, pump and motor Coupling, shaft development dimension precision, ensure the smooth operation of the pump, with sufficient safety factor.
8. Guarantee the use of lift motor but contained within.
9. Double tube with a single-pump installation and the installation of two types of cases are supporting the installation disk and disk side.
installation size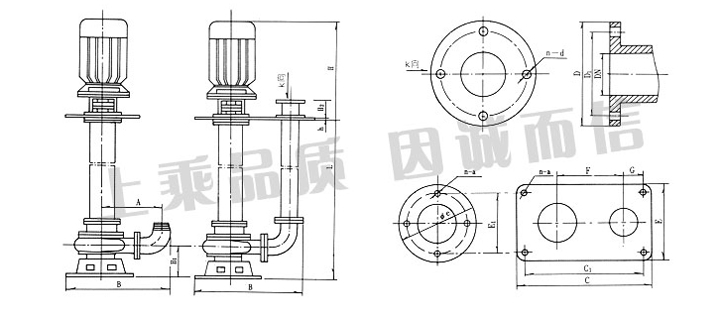 installation size and dimension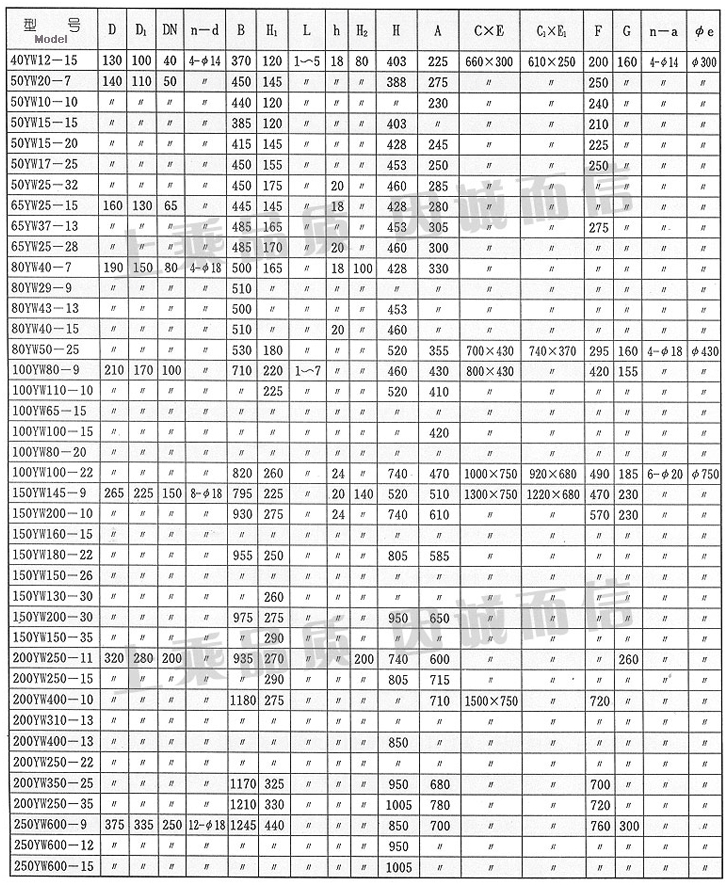 Performance Parameters
Type
Emit caliber
mm
Flow
m3/h
Lift
m
Speed
r/min
Power
KW

Efficiency
%
40YW12-15
40
12
15
2900
1.5
48
50YW20-7
50
20
7
1450
0.75
62
50YW10-10
〃
10
10
〃
0.75
54
50YW15-15
〃
15
15
2900
1.5
51
50YW15-20
〃
15
20
〃
2.2
51
50YW17-25
〃
17
25
〃
3
53
50YW25-32
〃
25
32
〃
5.5
49
65YW25-15
65
25
15
〃
2.2
52
65YW37-13
〃
37
13
〃
3
60
65YW25-28
〃
25
28
〃
4
58
80YW40-7
80
40
7
〃
2.2
50
80YW29-9
〃
29
9
〃
2.2
48
80YW43-13
〃
43
13
〃
3
65
80YW40-15
〃
40
15
〃
4
57
80YW50-25
〃
50
25
〃
7.5
56
100YW80-9
100
80
9
1450
4
62
100YW110-10
〃
110
10
〃
5.5
97
100YW65-15
〃
65
15
〃
5.5
59
100YW100-15
〃
100
15
〃
7.5
70
100YW80-20
〃
80
20
〃
7.5
71
100YW100-22
〃
100
22
〃
15
61
150YW145-9
150
145
9
〃
7.5
63
150YW200-10
〃
200
10
〃
15
64
150YW160-15
〃
160
15
〃
15
67
150YW180-22
〃
180
22
〃
18.5
74
150YW150-26
〃
150
26
〃
18.5
72
150YW130-30
〃
130
30
〃
22
69
150YW200-30
〃
200
30
〃
37
65
150YW150-35
〃
150
35
〃
37
63
200YW250-11
200
250
11
〃
15
72
200YW250-15
〃
250
15
〃
18.5
72
200YW400-10
〃
400
10
〃
22
75
200YW310-13
〃
310
13
〃
22
71
200YW400-13
〃
400
13
〃
30
76
200YW250-22
〃
250
22
〃
30
71
200YW350-25
〃
350
25
〃
37
73
200YW250-35
〃
〃
35
〃
45
69
250YW600-9
250
600
9
〃
30
78
250YW600-12
〃
600
12
〃
37
76
250YW600-15
〃
600
15
〃
45
73