CQ type stainless magnetic force driving pump
Product Overview
CQ typeMagnetic drive pump(Referred to asMagnetic Pump) Is applied to the working principle of permanent magnet couplingCentrifugal pumpThe new product, reasonable design, advanced technology, with fully sealed, no leaks, corrosion characteristics, their performance to the advanced level of similar foreign products. Magnetic pump to replace the static seal dynamic sealing, over-current parts of the pump is completely sealed state, solve the other pump mechanical seal can not avoid the run, run, drop the disadvantages. Magnetic pump is corrosion resistant, high strength engineering plastics, alumina ceramic, stainless steel and other materials for manufacturing, so it has good corrosion resistance, and can be transported from contaminated media.

Features
Enter the medium temperature -15 ~ +100 ℃, made of stainless steel, the density is not greater than 1600kg/m3, suction pressure is less than 0.2Mpa, the maximum working pressure of 1.3Mpa, transmission fluid without particles and fibers.

Usage
Corrosive liquid without solid particles, acids, alkalis, alcohol, bleach, photography solution, nitric acid, hydrochloric acid, hydrofluoric acid, acetic acid, sodium hydroxide, acetone, 4 ethylene oxide, water, salt and so on.
installation size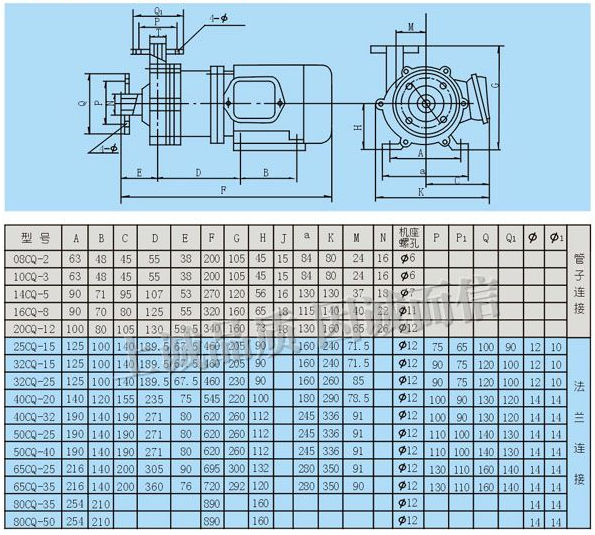 Performance Parameters
Model
Caliber
Head
(M)
Flow
(L / min)
Motor Power
(KW)
Speed
(R / min)
Voltage
(V)
Suction
(M)
Import
(Mm)
Exit (mm)
8CQ-1.2
8
6
1.2
15
0.025
2800
220
2
10CQ-3
10
8
3
19
0.025
〃
220
2.5
14CQ-5
14
10
5
20
0.12
〃
380
3
16CQ-8
16
12
8
25
0.18
〃
〃
3
20CQ-12
20
14
12
50
0.37
〃
〃
4
25CQ-15
25
20
15
110
1.10
〃
〃
4
32CQ-15
32
25
15
110
1.10
〃
〃
4
32CQ-25
32
25
25
110
1.10
〃
〃
4
40CQ-20
40
32
20
180
2.2
〃
〃
7.5
40CQ-40
40
32
40
200
4
〃
〃
8
50CQ-25
50
40
25
240
4
〃
〃
8.3
50CQ-40
50
40
40
220
4
〃
〃
7
50CQ-50
50
40
50
130
5.5
〃
〃
8
65CQ-25
65
50
25
280
5.5
〃
〃
7
65CQ-35
65
50
35
450
7.5
〃
〃
6
80CQ-35
80
65
35
850
11
〃
〃
7
80CQ-50
80
65
50
850
15
〃
〃
7